HIFU Face
HIFU is the most up to date and revolutionary treatment. If you are considering have a facelift but unsure about the surgical aspects then HIFU is for you. The unique High Intensity Focused Ultrasound can penetrate beneath the skin 1.5cm – 3cm to tighten the SMAS layer which sits in between the fatty tissue and muscle. Once this has been tightened it results in lifting the muscle and the fatty layer. HIFU also puts the skin through trauma to stimulate the bres responsible for collagen and elastin. We recommend a treatment every 9-12 months and the results can take between 3-6 months.
Price list
HIFU Consultations 45- 60 mins
£50.00 Refundable against a treatment
HIFU Face Treatment 2 hrs
£650.00
Before & After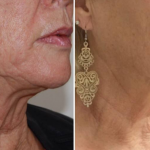 How does the HIFU treatment work?
What happens to the treated area?
What results can I expect?
What will I experience during treatment?
What happens after treatment?